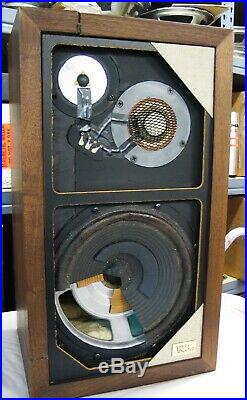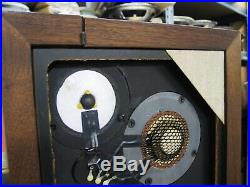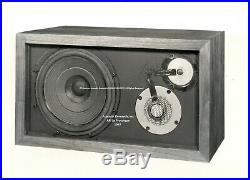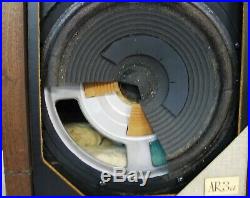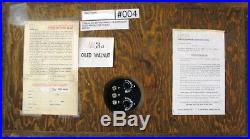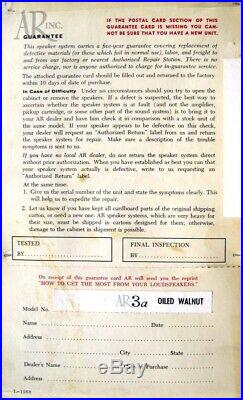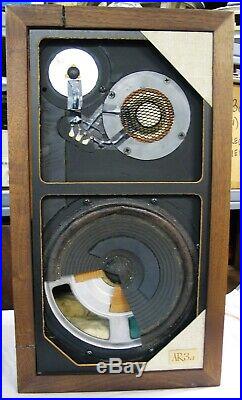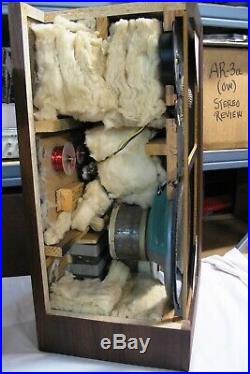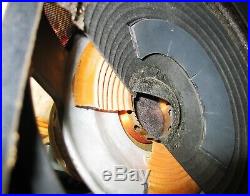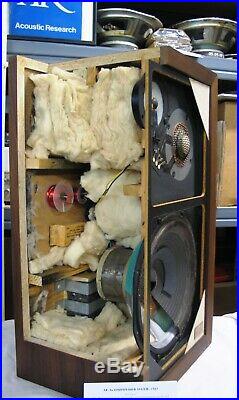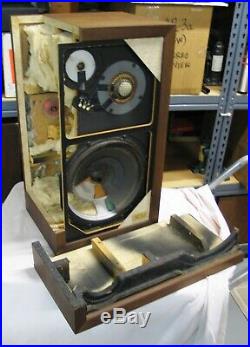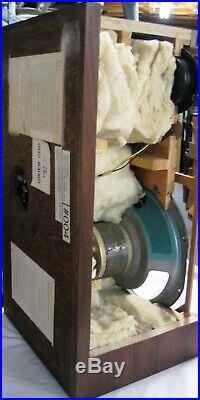 Acoustic Research AR-3a "Cutaway" Display Loudspeaker For Display. Rare, Hand-Built (by AR) Display Speaker. Last of the display versions built and possibly the last one existing. There was a mistake in the previous listing in the reserve amount and description details, and the listing was cancelled due to that error. There is no reserve on this re-listing. In addition, the midrange and tweeter are not in the circuit or are not functional, as intended, in this system. This unit was designed to be used to demonstrate the woofer's operation only. AR-3a "Cutaway" Loudspeaker Display Speaker. This rare AR-3a "Cutaway" from Acoustic Research was a show-demonstration version of the AR-3a, hand-made by AR personnel in the late 1960s for trade shows and for the AR Music Rooms. These AR-3a "Cutaways" were hand built in AR's Cambridge factory with a removable side section to observe the interior and a functioning woofer with part of the cone removed. It is thought that there were only three of these speakers ever fabricated (according to Sumner Bennett, National Sales Manager at AR at the time), and that two were dismantled by AR and destroyed. This AR-3a "Cutaway, " which has no serial number, was to be displayed in Europe, Asia and other parts of the world. This "Cutaway" was not designed to have functioning midrange and tweeter drivers. Only the woofer was intended to function as a demonstration of the excursion of the cone, pumping back and forth at 5 Hz with input from an audio oscillator (such as the Hewlett-Packard Model 200CD or similar) and power amplifier. This was done so that hi-fi enthusiasts could observe the operation of the AR acoustic-suspension woofer system. This AR-3a "Cutaway" is in excellent, original condition, and it has been stored for many years and displayed only once for the October, 1994 AR 40. Birthday Party on the east balcony of Grand Central Terminal in New York City. This is a very special Acoustic Research loudspeaker and would make a unique and very special centerpiece to display with an AR speaker collection. The Acoustic Research AR-3a Loudspeaker General Description. The AR-3a is a 3-way, full-range, 4-ohm acoustic-suspension loudspeakertechnically a bookshelf speaker for very sturdy bookshelveswhich includes the well-known AR 12-inch acoustic-suspension woofer, dome midrange and tweeter drivers, based on the original AR-3. The AR-3a was designed by Chuck McShane and Roy Allison of Acoustic Research, Inc. And the speaker was introduced at the New York High Fidelity Music Show in October, 1967. With the objective of improving the already excellent off-axis dispersion of the renowned AR-3. The result was a speaker containing one of the widest and most uniform midrange and treble dispersion of any forward-facing loudspeaker ever designed for home sound reproduction. The acoustically sealed, heavily braced (nine internal braces screwed and glued to the inside of the cabinet) AR-3a enclosure volume is 1.7 cu. Which is optimal for the 41-43 Hz resonance frequency, and the woofer's suspension restoring force ratio is approximately 85% acoustic and 15% mechanical, far greater than nearly all current consumer loudspeakers using the a/s design. For this reasonand the basic design of the motor system in the AR wooferthe AR-3a has. Lower harmonic distortion than most conventional, current-design loudspeakers of a comparable size. Julian Hirsch measured the woofer's harmonic distortion at a power level. Than usual test input voltages, and the distortion in the AR-3a's woofer was under 9% at 20 Hz, setting a new standard of low distortion, especially at this high-power testing. The woofer used in the original AR-3a speaker has a 9.6 lb Alnico-5 magnet assembly, cast-aluminum frame and a long-throw, 2-inch copper voice coil with a linear excursion of 5/8-inch and a maximum physical excursion of 1.2 inches. The midrange driver has a 1½-inch treated-cloth dome (hemispherical) diap. Gm with 1½-inch copper voice coil on an aluminum former assembly. The midrange driver is highly damped with fiberglass pads under and above the dome assembly itself. The magnet assembly is a large ferrite unit. The AR-3a tweeter uses a ¾-inch treated-paper dome diap. Gmsimilar to the original AR-3 phenolic-dome tweetersuspended by urethane-polymer foam pieces in the outside portion of the voice coil with a layer of clear butyl-rubber sealing the outside of the magnetic gap. The magnet assembly is ferrite. The drivers have LCR crossover frequencies of 575 Hz and 5,000 Hz. The speaker's impedance ranges from 2.7 4.9 ohms, and the speaker is approximately 0.7% efficient, meaning that an amplifier capable of at least 25 watts-per-channel into 4 ohms is the minimum suitable power. The AR-3a physical dimensions are 14 x 25 x 11-3/8. The AR-3as net weight, each, unboxed, is 54 lbs. The item "Acoustic Research AR-3a Cutaway Display Speaker, Special Unit, Extremely Rare" is in sale since Tuesday, November 26, 2019. This item is in the category "Consumer Electronics\Vintage Electronics\Vintage Audio & Video\Vintage Speakers". The seller is "acoustic-research-inc" and is located in High Point, North Carolina. This item can be shipped worldwide.
Amplifier/Oscillator: No Amplifier or Oscillator supplied
Model: AR-3a "Cutaway" Display Loudspeaker
Modified Item: Yes
Country/Region of Manufacture: United States
Custom Bundle: Yes
California Prop 65 Warning: N/A
Shipping Carton: Special "box-within-a-box" Carton
MPN: AR-3a "Cutaway" Display Loudspeaker
Modification Description: Acoustic Research specially modified "cutaway" display speaker for display purposes
Brand: Acoustic Research, Inc ("AR")
Bundle Description: This is a special product for display purposes.